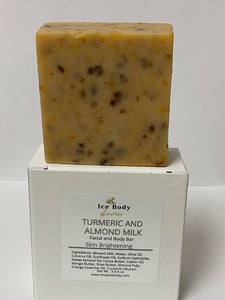 Almond Milk and Infused Turmeric beauty bar soap! We absolutely love the rugged look of this soap delivered from freshly ground almond pulp and the deeply infused Turmeric is gorgeous! Almond milk keeps the skin glowing while protecting it from sun
damage. In addition, almond milk promotes anti-aging qualities and hydrates the skin. Turmeric has amazing beneficial properties for the skin including helping heal wounds and reducing inflammation caused by eczema, acne, burns and psoriasis. Powerful antioxidants found in Turmeric helps in the reduction of growth of tumor cells of the skin. Turmeric is also great for dry skin. Whew! Who knew you could get all that from a bar of soap?
STAR INGREDIENTS:  Fresh Almond Milk, Almond Pulp, Turmeric, Sweet Almond Oil, Cocoa Butter and Shea Butter.