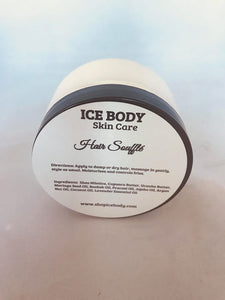 This lightweight hair souffle gives dry, dull hair the nourishment it needs.  Made with exotic butters and oils, get ready for deep conditioning and say goodbye to frizzy hair.  Need a hair growth formula? We've packed our hair souffle with African Kombo Butter, Castor Oil and Monoi de Tahiti, all known to aid in superior hair growth and conditioning.
Ingredients:  Shea Nilotica Butter, Monoi de Tahiti, Castor Oil, Cupuacu Butter, Ucuuba Butter, African Kombo Butter, Jojoba Oil, Argan Oil, Coconut Oil, Moringa Seed Oil, Baobob Oil, Pracaxi Oil, Lavender Essential Oil.
Disclaimer: 
Our hair butters contain raw shea butter, coconut oil, essential oils and other natural ingredients.  During warmer climates, these butters have a tendency to melt if left out in the heat for extended periods of time.  For this reason we include ice packs to reduce risk of melting.  We also ship our products by priority mail with a delivery confirmation of 2-3 days. 
Upon receipt of your products, open containers carefully to check for melting.  If melting has occurred, this can be easily remedied by placing the product in the refrigerator for a couple of hours or in a dark cool space.  Rest assured that melting of the product will not affect the quality and healing properties of your butter.  
Note:   Melted butters may not be returned.